The over use of the word "moisturizing" has really dulled down the meaning in the hair care industry. Did you know that more often than not those cheap moisturizing shampoos and conditioners actually do the exact opposite of what they say they do? I didn't either until I did some research on the topic.
Many products on the shelf are using some synthetic ingredients that dry out the hair by coating it with a wax-like substance to make the hair look healthier all while sucking out whatever nutrients the hair does have. This can cause a variety of problems including dry itchy scalp, dandruff, and in some cases hair to fall out! I am just as guilty as the next person buying that ninety-seven cent bottle of shampoo and conditioner just to save an extra buck. In the long run though, I know it isn't worth it.
Because I can be such a… we'll call it money saver, I have found some ways to replace the moisture, nutrients, and natural beauty of my hair by using some common kitchen ingredients that I always have on hand.
For this recipe all you are going to need is an avocado, olive or almond oil, and milk; super simple. The proteins and fats in this recipe will nourish your scalp and roots giving your hair a glossy shine and a super soft feel.
Ingredients
1 Ripe Avocado
⅛ C. Milk (full fat is best but you can use what you have)
½ T. Olive or Almond Oil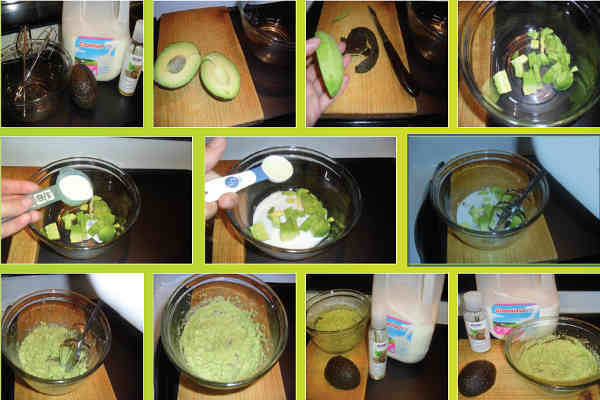 Direction
Peel and pit the avocado. Split in half and place 1 piece in a mixing bowl and snack on the other half!
If the avocado isn't fully ripe you can mash the avocado to have a smoother consistency.
Add milk and oil to the bowl and whip with a mixer. If you don't have a mixer, a blender will get the job done as well.
Continue to whip until there are no more lumps.
Apply to slightly damp hair and leave in for about 15 minutes.
Rinse hair thoroughly.
You can shampoo and condition your hair as usual but it is not 100% necessary as long as you rinse out all of the oil. I really hope you will enjoy this delicious hair mask as much as I do.