One good reason for using a bronzer is when the sun is shining and you haven't got any hope to go to the seaside as soon as you would wish. Or that you don't have enough time to go to the pool. Or that your skin is very sensitive and you don't want to expose it to direct sun rays. Either way, using a bronzer is one of the healthiest choice you have. If the bronzer is natural, of course.
If you apply it all over your body take care that it might leave stains on your clothes or bedding before it is completely dry. Drying time varies, but it may last from 15 to 30 minutes.
Exfoliate before applying the bronzer. It adheres to dead skin cells and there are areas where the stratum corneum is thicker (knees, elbows, feet, neck). You can exfoliate your skin with a loofah when taking a shower or you may use a homemade scrub.
Do you need shaving? Do it before applying the bronzer. Waxing (or other forms of hair removal, like shaving) may affect the quality of the bronze and shorten the duration it will look natural on the skin.
You Will Need:
Premade white lotion
Cocoa powder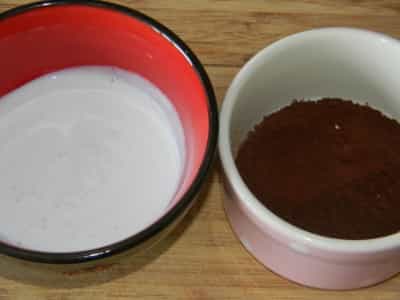 Directions:
Adjust the quantities taking into consideration the area you want to apply the bronzer on.
You may start with 1/2 cup lotion.
Mix in 1/3 cup cocoa powder. Use a strain for the cocoa so you don't get any clumps. Mix well and test it on your skin.
Adjust the color depending on the desired bronze intensity. Add cocoa little by little until you reach the perfect shade.
If you want a deep tan, you should use it every day.
Apply over your entire body. Make sure you do it evenly because you don't want different colors on your legs and hands.