A bronzer is a little beauty trick that you can call to have a skin kissed by the sun and you do not necessarily need to go to the beach. To achieve the desired effect, however, you must know how to choose the tanner according to your skin tone and how to apply it correctly.
You will want a bronzer if you have either too white skin or you simply want to get that sexy copper color that is worn especially in summer.
A bronzer can be your friend or foe … depends if you know how to use it.
And although it can be an ally in any woman's beauty bag, a bronzer is a rather problematic product because if you do not choose it properly, you risk either making your skin too orange or too dark and look unnatural. And the way of applying it counts too. The bronzer can be used to create a nicer tanned look or just to highlight and sculpt certain traits. It can be used on face, neck and body and can replace blush to the cheekbones.
When you want to use a bronzer you must pay attention to several aspects so that you choose the right one. You should have a tanner that is a shade or two darker than your skin. White skin looks good with a peach, pink or honey-colored bronzer, olive skin is beautifully highlighted with a copper-colored bronzer and darker skin accepts darker tanners. If you still have problems in making the best bronzer, guide yourself by the color of your foundation or face powder.
The best choice ever is a homemade bronzer. This is the only way you will get the perfect shade and you will be able to do this by adjusting the color little by little.
You Will Need:
Ground coffee
Premade white lotion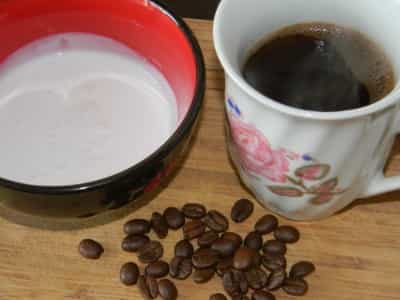 Directions:
Prepare a strong coffee. Brew enough coffee for a pot, but use only a cup of water. Let it cool.
Combine the lotion with the coffee and mix well. Add coffee until you get your desired color.
Store the mixture in a spray bottle and apply daily.