Have you ever had the problem of a child begging for candy and you know you should be the responsible adult and say no? I am in that spot a lot! With two nieces that can live on candy, it makes life super hard sometimes. My oldest niece can't live without gummy bears and gummy worms so I thought I would try to make some healthy gummies without all the added sugar. The first time I made this recipe I way overshot the ingredients and ended up having to throw it all away.
After a couple of tries I finally got the consistency correct and took her order! She picked fresh strawberries and pulp free orange juice. I had my doubts about mixing the two flavors together but that was what she wanted. To my surprise it tastes pretty great!
Ingredients
1 C. water (divided)
½ C. gelatin powder (unflavored)
¼ C. Honey
1 C. Orange Juice (try and not buy the artificial junk they try and pass off as real juice!)
1 C. Fresh Strawberries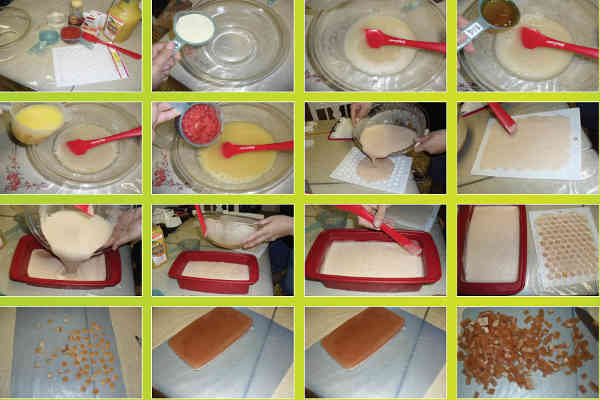 Direction
It is extremely important to prepare all ingredients before you start. Since you are working with gelatin your mixture is going to get very thick very fast.
Boil ½ a cup of water and pour ½ a cup of room temperature water in a medium sized mixing bowl.
Puree fruit
Measure out honey and juice.
Make sure you have your molds ready as well. Remember this process is going to go by in the blink of an eye.
You are ready…set…go…
Add gelatin to your bowl and quickly stir until you create a paste. This happens after about 6 stirs, if you stir too much it will start to clump and that is the last thing you want to happen.
Quickly add boiling water stirring briskly eliminating any small clumps that may have formed.
Stir in honey until uniform.
Add juice and puree and continue to stir quickly.
Quickly pour into molds and cool in the fridge for 2 to 3 hours.
Store in fridge in an air tight container for 1-2 weeks.
A couple of my failed attempts consisted of the clumpy matter that I advise against. After my second mess up I tried to fix it. I boiled some water and poured it in a large mixing bowl. I then created a steamer by placing my medium mixing bowl with the clumps in it inside the large bowl being careful to now get any water inside the medium bowl. I stirred my mixture over the steam for about 5 minutes and it became syrup and I was able to use the batch for some gummies. Another note is that these things are very sticky. Try and use a silicone container for your mold so that is will save you some grief in the long run. My nieces actually call me and ask me to make them some more "candy" so that they can take to school with them. I hope this recipe hits the sweet spot.