My family must be very sweet because we are like bug magnets. If there is anything flying, crawling, or squirming it's usually in our direction. One of my favorite products that worked was the Off Botanical lotion repellent but they discontinued it years ago. For this reason I had simply stayed inside for years. Now that I have children of my own I know I can't keep them locked up forever so I created a 2 in 1 body butter that they absolutely adore. This solves the problem of them not putting lotion on and keeping the bugs away and it is super simple to make.
Ingredients
2 Tbsp Olive or Almond Oil
¼ tsp Vitamin E Oil (Optional)
5 Tbsp + 1 tsp Shea Butter
½ Tbsp Oatmeal Starch, Corn Starch, or Arrow Root Powder
½ tsp Lavender Essential Oil
3-5 drops Citronella Essential Oil
Water soluble color (optional)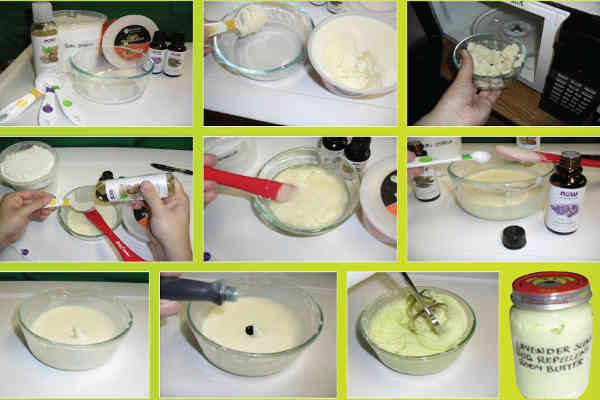 Direction
Place Shea butter in a microwave safe bowl and heat on high an initial 10 second interval and in 5 second intervals after that until all butter is melted.
Once butter is melted mix in the almond oil, citronella oil, and Lavender oil.
Place in refrigerator for 2 hours or until solid.
Remove from refrigerator, add coloring (food coloring works great) if you want then whip with a hand mixer unit it is light and fluffy.
Place in a small jar and label.
This recipe will fill a large baby food jar which is easy to carry around with you. You can customize the scent as well. The main ingredient in this body butter is citronella; you can substitute aloe butter, coco butter, or different essential oils of your choice to make the best Bug repellant ever.
I have tested this out many times and the only bugs that it doesn't send running in the other direction are flies. Some don't mind the smell and it sends others away but other than those little pests we can play outside with ease.